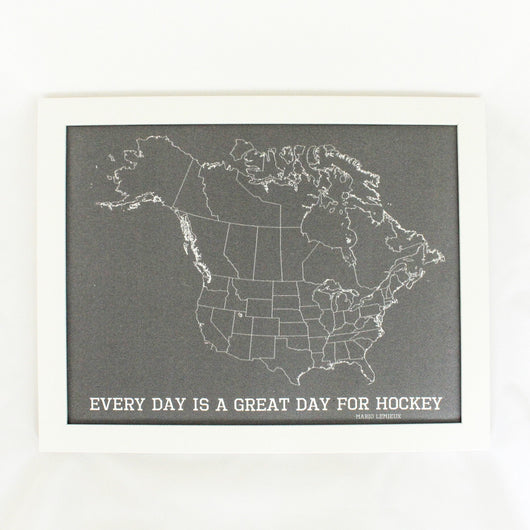 Hockey Fan Push Pin Map
Regular price $0.00 $76.00 Sale
It's the best game you can name and see live in person. Keep track of all the places you've seen wild fights, heartbreaking shoot outs and Stanley Cup games.  This map is ready to ship and no further customization is available and it will ship within 1-3 business days.
This particular map feature outlines of the continental US and Canada (Hockey Country) in white on a grey background. Each map is printed on fabric, and mounted over layers of cushion that will hold push pins before it is framed. It measures 14x11" in a slightly larger white frame that is included.  The NHL teams sell lapel pins at the stadiums or we have little ice skate pins you can use to mark the arenas you've visited or teams that you have seen.
Our maps are designed, printed and framed in Ontario, Canada. Shipping rates are for parcel service and delivery times will vary based on your location, up to 6 weeks for Europe and Australia. Contact us for faster shipping options or more information about a bespoke map.